Välkommen till Yoga Nidra hemma, på hotellrummet, arbetsplatsen och resan med Helén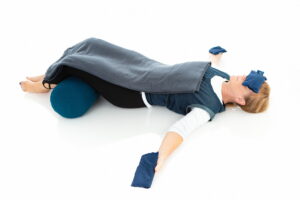 Yoga Nidra är en guidad meditationsteknik som utförs liggandes. Den hjälper oss till en djupavslappning som kan bidra till att lösa upp både fysiska och mentala spänningar. Denna djupavslappning kallas hypnogogiskt tillstånd, precis mellan vakenhet och sömn. I AyYo App hittar du dessa kortare pass under fliken Bibliotek/Pass när du skrollar ner en bit.
Så här beskriver Yoga Mästaren Mona Anand Yoga Nidra;
Yoga Nidra is a guided auditory meditation technique practiced lying down in savasana. In Sanskrit nidra means sleep. Yoga nidra is often referred to as the sleepless sleep because it induces a state between being awake and being asleep known as the hypnogogic state in which the mind and body deeply relax. This powerful state on the threshold of being asleep and being awake can be used for many purposes that include deep relaxation, releasing memories locked in the sub conscious and unconscious and creating an expanded state of consciousness
Yoga Nidra's roots lie in an ancient tantric technique called nyasa in which practitioners held their awareness on different parts of the body and through concentration and the chanting of mantas were able to bring more consciousness to different parts of the body. We use a variation of nyasa in yoga nidra to move our awareness through the body in a particular order and create a circuit of energy through the brain that allows us to enter the hypnogogic state.
Yoga nidra is highly adaptable both in length and purpose.  It can range from just a few minutes to an hour long practice depending on the purpose and time available. Most practices are between fifteen minutes and forty minutes. 
In the ISHTA Nidra training we experience and learn how to teach all nine steps of yoga nidra and how to adapt the practice for different imbalances such as insomnia, depression and anxiety. We also learn how to adapt yoga nidra for asana classes, restorative classes and how to create short, mid length and long yoga nidras. We  also look at how yoga nidra can be designed for dosha imbalances.