Extra Spring 2020
Feb 22, Yoga through the seasons with Helen and Pia at Upper House SPA, Göteborg
Try the poses and breathing versions, gain knowledge about different yoga and meditation techniques which help you to keep your balance despite season, place and time. We share our knowledge, inspired from both west and east, in yin yoga and ISHTA (integrated sicence of hatha tantra & ayurveda), as well as anathomy and biomechanism. To those of you who participated in our Sankalpa workshop, there will be an opportunity to follow up on your personal sankalpa too. Call or send an email to +46 (0)31-708 83 25 / spa@upperhouse.se to reserve a spot 
Feb 23, Yoga for a better living with Pia and Helen at Yogaheart, Göteborg
Did you know that if you twist slightly and use coconut oil it cools you down during sunny summer days, or that the latest research results point towards our social behavior and knowledge are more important than food? Come and try some yoga and meditation techniques to keep you balanced through out the year. To reserve a spot please go to Timecenter.se/yogaheart
Mar 1-2, Ayurveda & Yoga, at Yogaroom, Kungsbacka
How can you use the sister siences ayurveda and yoga to build, instruct and find themes for your yoga classes, and what does ayourveda say about the five elements in regards to your body, mind and spirit. An 8 hour workshop as part of the Yoga teacher training Art of Life 200h.
April 23-26, Yoga Nidra and the Chakras – The Upper Chakras, at Yogayama, Göteborg
It's time for Part 02 of this training. Modeled on Mona Anand's Restorative /Yoga Nidra Chakra Balancing Series, this training teaches the participants to recognize chakra imbalances and develop yoga nidra practices to find balance. Each day will focus on a specific chakra and will include:
A practice with asana, restorative and yoga nidra designed for a specific chakra
Discussion on how to develop short, mid and long yoga nidra practices for a specific chakra
Lecture and discussion on how to recognize imbalances in a specific chakra
Discussion on how to sequence asana and restorative postures for specific chakra imbalances
How to integrate pranayama, mantra and visualization for specific chakra imbalances
To participate please send an e-mail to info @ ayyoapp.com
May 23-30, Yoga trip to Corsica with Langley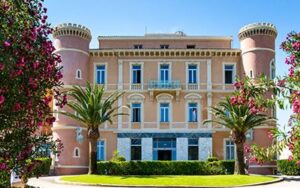 "HARMONY & MEDITATION – Fill up with energy, find balance and inspiration. During our one week retreat you will have the opportunity to deepen your knowledge and challenge yourself with new thoughts and situations. To reed more and book the trip, go to Langley – welcome!
July 22-28, ISHTA Yoga Retreat, Son, Norway
We welcome you to a week filled with the ISHTA Yoga teachings led by its Founder, Alan Finger and Co Owners Sarah Platt Finger and Mona Anand. Our retreat is located at the Son spa in beautiful Norway, just outside of Oslo.
More information to come soon but until then please save the dates. If you are
interested in the full agenda and more information please send an e mail to Helén at info @ ayyoapp.com who is coordinating this retreat.
Welcome to a week of abundance!